Association
Global Academy of Finance and Management (GAFM)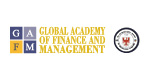 About Global Academy of Finance and Management® (GAFM)®
Established in 1996, the Global Academy of Finance and Management® (GAFM) International Board of Standards (IBS) Accreditation council is located in the EU and USA. Accredited by ESQ Austria and ISO certified for both ISO 9001 Quality and ISO 29990 Training recognition, GAFM continues to forge ahead to ensure the quality of its programmes and provide a model for quality professional practice and performance, and a common reference for learning service providers (LSPs) and their clients in the design, development and delivery of non-formal education, training and development.
The Certification Board of Standards has been officially sanctioned by the Arab League's Academy for over 20 Arab Nations and has been recognised in consultation directly with the ESCA Emirates Securities and Commodities Authority. The Certification Body is in academic standards alliance with the ACBSP National Business Accreditation Agency for Certification Standards worldwide and is a CHEA founding member of the quality assurance standards memorandum of the International Quality Group.
GAFM's certification body regulates the standards for certification and accredited education and defines the criteria for qualified training and degree programmes which are a direct path to the certifications.
Types of GAFM™ Certifications: The Standards Policy Board awards specialised board certifications, designations, and charters in the fields of management, engineering, human resources, quality, financial engineering, accounting, management consulting, risk management, communications, procurement, logistics, construction, and consulting fields to qualified professionals who have completed internationally recognised or accredited training exams and education, government recognised degrees and documented management credentials and experience.